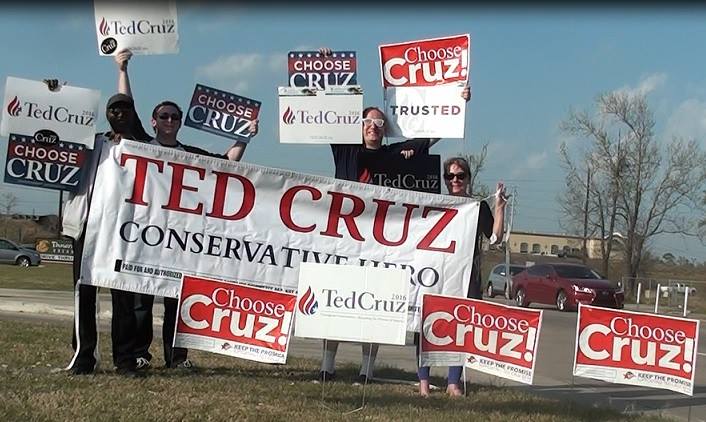 To all you Trumpsters who have suggested that I eat excrement and die for supporting Ted Cruz, I still love ya'. I share your pain. For seven years, I have been traveling the country attending over 500 Tea Party rallies, fought to stop Obamacare, fought to stop Obama's insane Iran nuke deal, fought to defund Planned Parenthood and written countless articles. Like many of you, I donated funds and worked my butt off to give the GOP control of the House and Senate.
And yet, the GOP has failed to deliver on its promise to stop Obama's amnesty and illegal immigration; failed to stop Obama's anti-Christian, anti-American and far left radical agenda – his vowed fundamental transformation of America. The GOP has made it clear that they never shared our desire for smaller government and are conspiring with Democrats to thwart the will of We the People. Thus, I share your anger, outrage and pain.
But brothers and sisters, Trump is not the answer. In the recent GOP debate, Trump did not denounce the NY Times accusation that he told them he will not hold true to his campaign promises regarding deporting illegals and building a wall. Trump has begun using the word "compromise" a lot. That is scary folks.
Sen Ted Cruz is hands down the one Tea Party candidate we sent to Washington who has kept his word on every issue. And yet, some of you have expressed a vitriolic irrational hatred for the man. I simply do not get it. You go out of your way to find and spin things to disqualify Cruz. Meanwhile, Trump continues to sound more and more liberal-lite and you guys ignore it.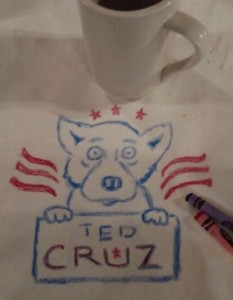 Well, I will cut to the chase. I believe much of the opposition to Cruz is spiritual. Cruz is a strong unapologetic man of faith and that just rubs some folks the wrong way. However, I do not believe those folks are a majority. With the cultural rot dominating and eating away at the fabric of our flag and country, Americans long for some good old fashion mom, apple pie and John Wayne goodness.
I am standing with Ted Cruz folks. I pray y'all will do the same.
Our Conservative Campaign Committee team arrived in Louisiana and did a sign wave for Cruz. We ate gumbo at Blue Dog Cafe. The walls were covered with prints of the famous Blue Dog by Louisiana artist Rodrigue. While waiting for my food, I used the crayons they provided to recruit the Blue Dog for Cruz, at least at our table.
Lloyd Marcus, The Unhyphenated American
Chairman: The Conservative Campaign Committee