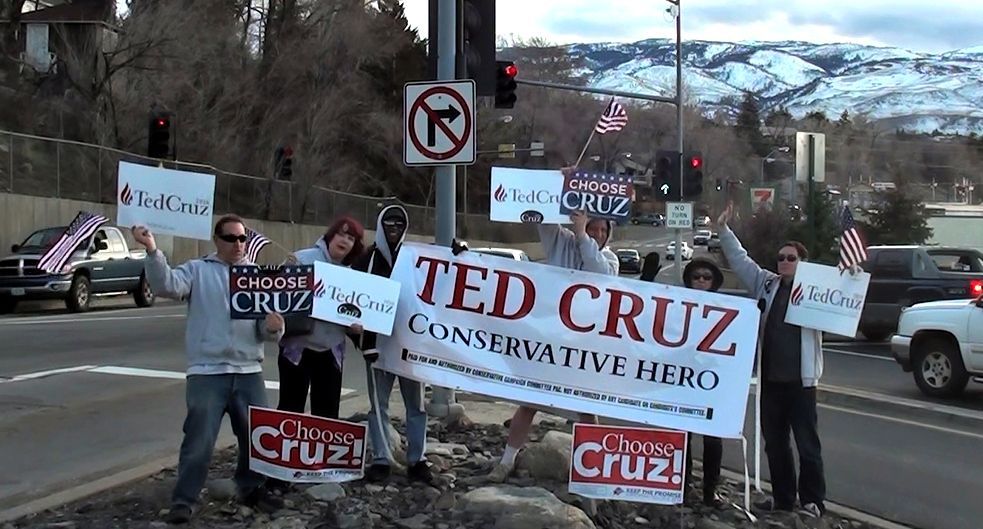 Wednesday, Mary and I flew in from Florida joining our Conservative Campaign Committee team in Nevada to campaign for Ted Cruz. Our team joined by local Cruz volunteers conducted 5 sign waves at busy intersections and highways in southern and central Nevada.
Friday, our first sign wave of the day was in Fallon, Nevada. During our SUV ride to Fallon, we saw wild horses. Are you kidding me? Somehow, I never thought horses still run wild. Too cool!
We stopped at a fast food place, Carl's Jr, for our eat-in-the-car breakfast. We do not have Carl's Jr in Florida. I got a burger with all the fixings wrapped in lettuce instead of a bun; delicious and perfect for my battle with Diabetes.
Fallon must be pretty conservative. We received tons of honks and thumbs up from motorists for Cruz. We proceeded to do sign waves in Fernley, Sparks and Reno until night fell upon us.
A team member questioned the effectiveness of sign waving. Joe Wierzbicki, our Executive Director said voters seeing people excited enough about their candidate to stand on a street corner and enthusiastically wave a sign is extremely effective. I concurred by sharing an embarrassing tale from 15 years ago. Mary and I had just moved to Florida in the middle of a local election. We saw people on streets corners waving signs in support of "Long." We voted for Long. Later, we learned that the guy is a flaming liberal.
Our team's last sign waving of the day was in Reno. We received a healthy amount of motorists supporting Cruz. A flood of Sanders supporters drove by yelling and waving "Bernie' signs. They were headed to the Sanders rally in Reno.
Later, that evening on Virginia Ave below the famous, "Reno: The Biggest Little City in the World" neon sign, Sanders supporters lined the street waving signs and handing out literature. Folks, I am not being mean, but simply honest. The Sanders supporters blended in perfectly with the local panhandlers.
I found myself feeling the "bern", but in a depressing way. This guy's (Sanders) message is give me your stupid, your deadbeats, your class envious masses yearning for government to give them other peoples' stuff. Sadly, the number of Sanders supporters is higher than we reasonable responsible Americans would think.
Bottom line, we have much work to do folks. We must detox our youths from decades of socialist/progressive indoctrination is public education.
We must elect real-deal rock-solid conservatives like Ted Cruz; empowering them to spread the good news of Conservatism – articulating why Conservatism is far superior to liberalism; epitomizing fairness and true compassion.
God bless, Lloyd
Lloyd Marcus, The Unhyphenated American
Chairman: The Conservative Campaign Committee