Visit OurCountryDeservesBetter.com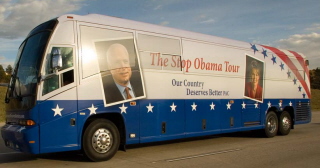 Here are some trip snippets:
Albuquerque, NM:
Lloyd Marcus Singing "Sarah Smile" and inviting Karen, a member of the crowd, to join him sing God Bless America.
httpvh://www.youtube.com/watch?v=gIkZiEp8460
Pueblo, CO: article by photojournalist El Marco.
http://www.lookingattheleft.com/2008/10/stop-obama-tour/
Fox News – Lloyd of Fox & Friends
httpvh://www.youtube.com/watch?v=vSqCu5hhTtk
Colorado Independent: Interesting Reading
http://coloradoindependent.com/11933/stop-obama-bus-tour-rallies-conservatives-drives-attack-ads
Denver, CO: Makes one go Hmmm.
http://rgcombs.blog-city.com/our_country_deserves_better_bus_tour.htm
Illinois Review: More Pictures
http://illinoisreview.typepad.com/illinoisreview/2008/10/mchenry-count-1.html
Are you Joe? Interesting Site
http://www.johnmccain.com/Joe/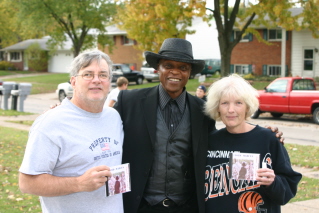 Joe the Plumber's Parents, Frank & Kay Wurzelbacher and Lloyd Embracing,
The Lloyd Marcus Million Handshake March
Traveling on the national "Stop Obama" tour with OurCountryDeservesBetter.com has given me a unique opportunity to meet the wonderful, God fearing, hard working, good and decent American people . We're traveling to almost 40 cities in two weeks. These are the heartland folks beat up on by Obama and his liberal friends. They're called racists if they don't vote for Obama. They're called naive for their belief in God. They're called selfish for wanting to keep what they've worked hard for and not have it given away.
I'm meeting and touching these people. They cry when I sing "God Bless America". Their tears make me cry. This connection has inspired my Million Handshake March. Please attend our next rallies. If you love our great country, I would LOVE an opportunity to shake your hand.
Thanks and God bless,
Lloyd Marcus