LLOYD MARCUS TV Show On-line, Proud Black Conservative

Listen to Lloyd Marcus Interview
Read Full Article
SAN ANTONIO TEXAS!

LIVE with Thousands in Little Rock!

Join Lloyd with the TEA PARTY EXPRESS.
STARTS August 28, Sacramento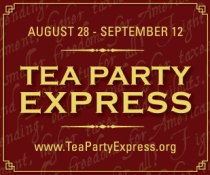 ENDS Sept 12, Wash DC
It's time to take our country back! Let's speak out against the out-of-control tax and spend policies of Congress and the White House. Let's defeat those running government who would call our veterans and conservatives "right-wing extremists."
From August 28th to September 12th the "Tea Party Express" bus will tour the country, hosting tea party rallies across America. Find the tea party nearest you and join our efforts to boot out of office some of the worst offenders in government. With your help we'll clean house in the upcoming congressional elections!
RSVP to a rally location near you!:
8/28 – Sacramento, CA – http://www.facebook.com/event.php?eid=113053734311
8/28 – Reno/Sparks, NV – http://www.facebook.com/event.php?eid=120064540705
8/29 – Winnemucca, NV – http://www.facebook.com/event.php?eid=113804129513
8/29 – Elko, NV – http://www.facebook.com/event.php?eid=115460664042
8/30 – Ely, NV – http://www.facebook.com/event.php?eid=115186648723
8/31 – Las Vegas, NV – http://www.facebook.com/event.php?eid=111160419561
8/31 – Flagstaff, AZ – http://www.facebook.com/event.php?eid=113832319827
9/01 – Albuquerque, NM – http://www.facebook.com/event.php?eid=251681570172
9/01 – Las Cruces, NM – http://www.facebook.com/event.php?eid=119361276882
9/02 – El Paso, TX – http://www.facebook.com/event.php?eid=261403070264
9/03 – San Antonio, TX – http://www.facebook.com/event.php?eid=111849862862
9/03 – Waco, TX – http://www.facebook.com/event.php?eid=114326419707
9/04 – Dallas, TX – http://www.facebook.com/event.php?eid=264587990240
9/04 – "Whistle Stop" Rally, TX – http://www.facebook.com/event.php?eid=149543872624
9/04 – Little Rock, AR – http://www.facebook.com/event.php?eid=137237886353
9/04 – Memphis, TN – http://www.facebook.com/event.php?eid=111289657699
9/05 – Louisville, KY – http://www.facebook.com/event.php?eid=113684694139
9/06 – Bloomington, IN – http://www.facebook.com/event.php?eid=116737253469
9/06 -Champaign/Bloomington, IL-http://www.facebook.com/event.php?eid=129215423948
9/07 – Joliet, IL – http://www.facebook.com/event.php?eid=126956361868
9/07 – South Bend/Mishawaka, IL – http://www.facebook.com/event.php?eid=115029028285
9/07 – Battle Creek, MI – http://www.facebook.com/event.php?eid=115508756111
9/08 – Jackson, MI – http://www.facebook.com/event.php?eid=118220646785
9/08 – Brighton, MI – http://www.facebook.com/event.php?eid=115328358515
9/08 – Troy, MI – http://www.facebook.com/event.php?eid=117327682261
9/09 – Canton, OH – http://www.facebook.com/event.php?eid=113402418659
9/09-Pittsburgh/CranberryTownship,PAhttp://www.facebook.com/event.php?eid=116913903597
9/09 – Johnstown, PA – http://www.facebook.com/event.php?eid=142074755637
9/10 – Scranton, PA – http://www.facebook.com/event.php?eid=130524045208
9/10 – Albany, NY – http://www.facebook.com/event.php?eid=128975167007
9/11 – Hartford, CT – http://www.facebook.com/event.php?eid=114142289626
9/11 – Bridgeport, CT – http://www.facebook.com/event.php?eid=144334961351
9/11 – Toms River, NJ – http://www.facebook.com/event.php?eid=114713779291
9/12 – Washington, D.C. – http://www.facebook.com/event.php?eid=137710202320