Tea Are The World, Taking Back America Trailer
For those who haven't yet seen the trailer for Norvell Rose's new documentary, here it is… "Taking Back America – History in the Making of Music" premieres Oct 9, at the Virginia Tea Party Convention. It's an all-volunteer short film that chronicles how a new Lloyd Marcus song was created, with the help of talented Tea Party Patriot singers from across the country.
There are still openings to be a Patriot Supporter!
Please share with your friends & social lists!
CLICK the DONATE button to become a Patriot Sponsor!
CLICK HERE to see More of America's Mighty Warriors
______________________________________________________________________
______________________________________________________________________
JUNE 5, 2010
It was an incredible day! Singers/musicians from across America gathered together at Deltona Records in Florida to record my original song, "Taking Back America".
AmericasMightyWarriors.org which assists families of U.S. fallen soldiers is beneficiary of the proceeds from the sale of the song and compilation CD. Gold Star Mom Debbie Lee who is the president and founder of AmericasMightyWarriors.org said she was extremely moved upon arriving at the recording studio seeing so many cars with license plates from all over the country.
The atmosphere in the studio was electric; a variety of bands, singers, songwriters and players representing numerous musical genres from rap to country and everything in between all meeting for the first time. And yet, several attendees commented how much the historic recording session felt like a family reunion. The common thread which bound us all together was love and a belief that America is the greatest nation on the planet; a desire to support our military and their families and a strong opposition to the Obama administration's socialist agenda.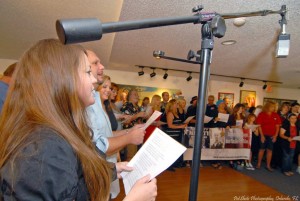 (PHOTO: Mark Bernhardt)
I began the recording session with a welcome and thanks for attending. Then, Rev. Walt Mentzer started us off with a beautiful prayer. I told the crowd I was grateful we were still free to pray in public.
But, what really set the mood and inspired the singers was Debbie Lee emotionally telling the compelling story about how her son, Marc Alan Lee lost his life in Iraq heroically saving the lives of his buddies. Marc was the first U.S. Navy Seal killed in Iraq.
While some fought back tears, the choir of 100 singers passionately and enthusiastically sang the choruses of "Taking Back America". Then, we began recording individuals each singing a solo line of the verses, similar to the way the music community recorded "We Are The World" in the 80s. Those selected to sing coveted solo lines were band lead singers and singer/songwriters.
Everyone was moved by the feeling of unity and family in the room. Jeff Bruzzo of ProjectShiningCity.org captured the mood on video.
After we recorded the choruses, the choir was free to leave while we recorded the soloists in another room. The choir stayed and fellow-shipped.
Even though the number of bodies in the building challenged the capacity of the air conditioner to keep up, they all stayed, laughing and chatting with smiles everywhere. Friendships were formed, inspired ideas for action were birthed and collaborations were planned. Eighteen of them went to dinner and conversations continue well into the late evening.
Who were these guys? They were "We The People" musicians doing their part to restore and preserve our freedoms, liberty and culture. It was truly wonderful.
Wandering through the crowd, my ears caught snippets of their stories of businesses lost thanks to Obama. They talked about the specific Obama outrage which pushed them off of their sofas and caused them to pick up their guitar, start blogs, start radio shows and form organizations.
Along with the "Taking Back America" song which we sang together, the compilation, "Tea Are The World" CD will include original songs recorded and submitted by bands and solo artists from around our country.
Five time Emmy Award winning producer, Norvell Rose shot footage of the day's activities for a "Making of " documentary and a music video.
By the time, Frank Starchak, music producer/recording engineer had completed recording the last solo line of the song, I was physically and emotionally exhausted. With tears in her eyes, Debbie Lee gave me a huge hug and thanks. Debbie again commented on the warm feeling of family that permeated the atmosphere. From long haired white rockers to grandmas to black r&b singers to teenage rappers to seasoned music business professionals, the conduit was our love for America and a desire to support our troops.
I was truly grateful to God for pulling it all together.
A brief back story. I have attend over 200 tea parties across America on three Tea Party Express tours. In every state, musicians approached me with CDs of their original songs while expressing their desire to be a part of the incredible Tea Party Movement.
Several months ago, while on Tea Party Express II tour, I decided to write a song and record it "We Are The World" style with musicians from across America. But, who would be the beneficiary of our efforts?
Debbie Lee joined our team on Tea Party Express III tour. Between rallies, while riding on the tour bus, Debbie told me about her organization which supports the families of fallen soldiers and her challenges regarding funding.
Our conversation inspired a eureka moment. I thought, "That's it"! All proceeds will benefit Debbie Lee's organization, AmericasMightyWarriors.org.
The true hero of the day was my longtime friend and master music producer/recording engineer Frank Starchak. I later learned Frank awoke the day of the historic record session with a horrible tooth ache. In true American spirit, Frank fought through the pain and pleasantly recorded the mass choir and all of the solo singers.
Frank has also given tremendously to the project. Before recording the vocals, Frank has contributed 30 hours of music production free of charge. He is faced with the huge task of editing the vocals and mastering the over 30 songs which will be on the compilation CD. I would love to find an honorarium for Frank .
Folks, I say it again. The "Tea Are The World" recording session was an awesome day and a memorable rewarding experience for all in attendance. Stay tuned for the release of the "Tea Are The World" CD. It will feature our joined performance of "Taking Back America" and original songs by bands and individual artists across America. God bless.
Lloyd Marcus (black) Unhyphenated American
Spokesperson/Entertainer of Tea Party Movement & Tea Party Express.
The American Tea Party Anthem cd/album.
Confessions of a Black Conservative, foreword by Michelle Malkin.
President, NAACPC (National Association for the Advancement of Conservative People of ALL Colors)
Lloyd Marcus Facebook Fan Page
__________________________________________________________________________
__________________________________________________________________________
I got the idea while traveling and performing nationally on Tea Party Express Tour II. At rallies in every city, conservative musical artists gave me their CDs. Singer/songwriters emailed their songs; all understandably proclaiming theirs to be the greatest tea party song ever written.
I loved the ones who gave me a sheet of lyrics with their permission for me to create a melody, invest time and funds hiring musicians and studio time to produce their song with a promise of sharing the millions made from the sale of their "sure hit".
However, I have heard excellent songs from relatively unknown conservative bands and individual artists; each wanting to travel on the Tea Party Express and/or participate in the Tea Party Movement.
Thus, my idea/solution. To symbolize the diversity, unity and "We The People" aspect of our incredible Tea Party Movement, what if unknown and famous conservative musical artists came together to record a song for a great cause in the style of the Michael Jackson and Lionel Richie 80s hit "We Are The World".
I have challenged my dear friend and amazing music producer/engineer, Frank Starchak, on three other occasions to produce a masterpiece. Each time Frank rose to the occasion.
Over ten years ago, Frank and I were recording after midnight in his studio. A little boy around ten years old knocked on the front door. I cannot remember what the kid wanted, but Frank told me the local boy had issues and bad parents. The troubled boy did receive guidance by attending the Julie Community Center daily after school. The center was run by an awesome nun named Sister Bobby. I had a dream that night about several singers recording a unique version of "Amazing Grace" which would change to various musical styles. All proceeds from the sale of the song would benefit the Julie Community Center.
Frank and I rallied almost two hundred Maryland bands, singers and musicians to record the song. We had white tattooed rockers with rings in their noses and long purple hair singing with black gospel singers wearing business suits; people who would never be in the same room together enjoyed the awesome vibe and musical kinship of the project. Even a rapper threw in a positive rap. It was truly wonderful.
Years later, after moving to Florida, I heard the heart-wrenching news story about tractor trailer driver, Ed Tippie. Talk about being in the wrong place at the wrong time, a depressed father decided to commit suicide with his two young sons in the backseat of his car. He pulled his car out into traffic on the interstate right in front of Tippie's eighteen wheeler. Tippie suffered a mild neck injury. All three passengers in the car were killed.
Tippie, husband and father of a sick child was so traumatized by the incident he could no longer drive. Frank and I rallied musicians, wrote and recorded a song and raised funds for the Tippie family.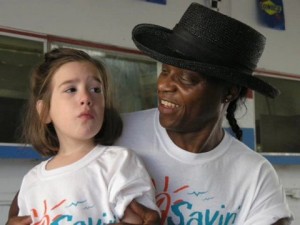 Then, I was approached to help Gabrielle LaVerde, a beautiful little girl suffering with Niemann-Pick Type C, early childhood Alzheimer's. Her parents needed funds for a special treatment. Again, Frank and I rallied the music community.
Now, Frank and I are rallying the national conservative music community to benefit the families of our military fallen (AmericasMightyWarriors.org). I had the honor and pleasure of meeting the founder and president of the wonderful organization, Debbie Lee, while traveling together on the Tea Party Express III tour.
Debbie Lee is a Gold Star mom. Her highly decorated son, Marc Alan Lee was the first U.S. Navy Seal killed in Iraq. Debbie, through her organization, is doing the Lord's work providing aid, comfort and whatever she can to assist the families of fallen soldiers.
Here is our game plan. Artists will come to Florida and record the song, "Take Back America" with various singers singing each line ala "We Are The World". Everyone will sing the chorus.
Musicians will have an opportunity to add various parts. Artists may submit songs for consideration to be included on the compilation CD. ALL proceeds from the sales of the CD will benefit AmericasMightyWarriors.org.
The historic "Tea Are The World" recording session will take place, Saturday, June 5, 2010 at 12 noon; Deltona Records, 682 Deltona Blvd, Deltona Florida 32725. Interested artists should RSVP Margie Kinder: 703-962-0315 /margiekinder@gmail.com
A music video will be shot of the recording session and it will be streamed live over the internet by TeaPartyExpress.tv.
And for the liberal mainstream media who persist in saying there are no blacks in the Tea Party Movement, I am black conservative singer/songwriter of the "American Tea Party Anthem" and unhyphenated American, Lloyd Marcus.
Sponsor Space is still Open, please email: Mr_LloydMarcus@hotmail.com