In our War Room here in Wisconsin, our Conservative Campaign Committee team cheered and high-fived each other upon the announcement that Cruz won Wisconsin. While we were boots-on-the-ground, Cruz could not have won without support from grassroots patriots across the country. Thank you! Thank you! Thank you! We did it patriots! We did it!
Three weeks ago, the media said Wisconsin was a perfect state for Donald Trump. Today, 1.3 million people across America made $10, $25 and $50 donations to Cruz's campaign; raising over $2 million in one day.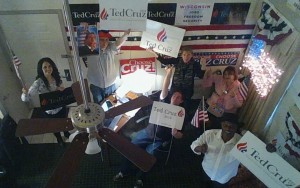 While I am elated over Cruz's victory, I am encouraged regarding the character and soul of my country. The mainstream media, Democrats, the Left and GOP establishment would have us believe that Americans have turned their back on traditional principles and values which have made America great and exceptional. Their narrative is Cruz is an un-electable throwback.
Well, it seems as more Americans have an opportunity to hear Cruz's common sense, unfiltered, optimistic and unifying articulation of Conservatism, it connects with their inner spirit. Americans are beginning to realize that Ted Cruz is the one they have been waiting for. Onward and upward folks. Thanks again for all your hard work. God bless, Lloyd
Lloyd Marcus, The Unhyphenated American
Chairman: The Conservative Campaign Committee
LloydMarcus.com