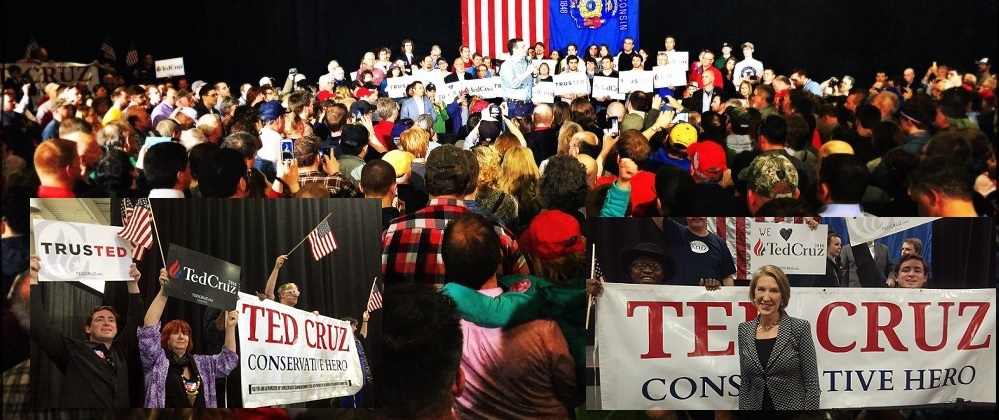 Our Conservative Campaign Committee has gone state-to-state helping Cruz win or finish high in primaries. It has been grueling folks. My wife Mary got very sick with the flu. We went home to Florida for two weeks.
Always look for the blessing. The blessing in Mary's illness is she felt so sick that she decided to stop smoking again after fifteen years. She has not had a cigarette in three weeks. Please keep her in your prayers that she will remain hanging tough; smoke free.
Anyway, Mary and I flew into Milwaukee Wisconsin to rejoin our CCC team and attended Cruz's rally in Rothschild Wisconsin. Every Cruz rally begins with the pledge of allegiance and an opening prayer. It struck me at the Rothschild rally that the filled hall said, "…one nation under God." Under God is still in our pledge folks. The woman who led the opening prayer ended it, "in Jesus name." If Ted Cruz is not elected, how long will it be before "under God" is federally deleted and "in Jesus name" is federally banned from public prayers? We all know our country is swiftly headed in that direction. Ted Cruz promises to defend our religious liberty.
Carly Fiorina introduced Ted at the rally. She gave a moving account of when faced with voting for herself or another candidate, she voted for Cruz, the Constitutional conservative for the good of her country.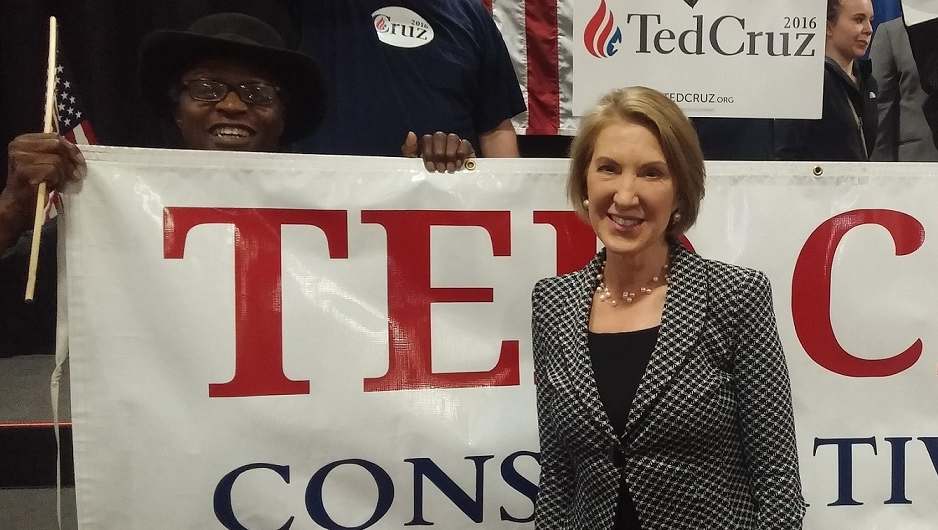 In his speech, Cruz talked about single mom's having to work two and three jobs because employers cut their hours below 30 per week to avoid Obamacare cost which would drive them out-of-business.
Cruz promises he will repeal Obamacare day one of his presidency.
Cruz addressed plumbers, truckers and other blue collar workers who work their fingers to the bone only to see their wages stagnate as the cost of living continues to skyrocket. Obama's EPA overreaching regulations are a huge drag on our economy.
Again, Cruz vowed to make national security a top priority. Despite the latest horrific terrorist attack in Brussels, Obama still insanely pledges to bring in 100,000 Muslim refugees.
Cruz promises to stop Obama's insanity. And unlike Obama, as president, Cruz will acknowledge that we are at war with radical Islamic terrorists.
Practically all of American's pain and suffering can be traced to Obama, democrats and liberalism. Ted Cruz promises to fix it. Cruz said when he is elected president, it will be "morning in America again." I believe him folks. I believe him.
If you're driving around Wausau Wisconsin today, you could see our Conservative Campaign Committee team at a busy intersection waving "Ted Cruz" signs and displaying our swiftly becoming famous, "Ted Cruz: Conservative Hero" banner. Honk your horn. Give us a thumbs up. We really appreciate it. It's all about saving our country folks. That's why we do what we do.
Lloyd Marcus, The Unhyphenated American
Chairman: The Conservative Campaign Committee
LloydMarcus.com