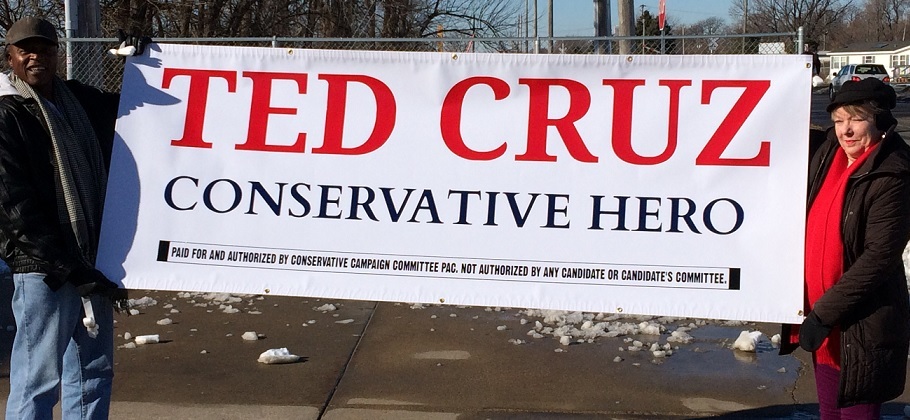 Our Conservative Campaign Committee had our first sign wave roadside in Iowa for Ted Cruz. Man, was it cold. Keep in mind, yesterday Mary and I were wearing shorts home in Florida. Admittedly anecdotal, the thumbs up and honks from drivers in favor of Cruz far outnumbered the negative responses.
Mary and I picked up a few things to keep in our hotel room from a grocery store I have never heard of called Hy-Vee. Folks, I don't want to make too big of a deal about this, but the staff was noticeably, warm, pleasant, friendly and helpful. I thought, their "customer first" mindset is obviously a management requirement.
Back in my hotel room, I did an internet search about Hy-Vee. Sure enough, the company instructs their 78,000 employees in 235 stores to be upbeat, always putting customers first. Founded in Beaconsfield, Iowa in 1930, the foundation of the company's operating philosophy is reflected in its slogan, "A Helpful Smile in Every Aisle." Folks, I don't mean to sound like a commercial for these people. I am simply saying I noticed the excellent food displays, quality and attention to detail throughout the store. I suspect that the Hy-Vee company is a reflection of Iowa/Midwestern values.
Tomorrow, we will attend a Ted Cruz rally in Sioux City, Iowa, sign wave, work on phone-from-home initiative and so on. Did I mention how cold it is here?
Lloyd Marcus, The Unhyphenated American
Chairman: The Conservative Campaign Committee