Tea Party: You've Got a Friend in CCC
The Marcus family often chuckled about how my grandmother's relentless bragging about us probably caused her friends to hate us. Grandma would go on and on about our achievements, spouting how her son, grandson or granddaughter did whatever better than anyone in the entire world.
Well, I am going to take a cue from my late 101 year old grandmother and brag a bit about my PAC, the Conservative Campaign Committee of which I am chairman. Through the years, we have remained loyal to "We the People" faithfully supporting conservatives in House and Senate races.
We have not forgotten who and why the Tea Party was started; not seduced by mainstream media approval, the GOP establishment nor gazillion dollar donors. Our commitment to backing true conservatives comes with a price. We have lost some heart-breakers; out financed along with GOP establishment dirty tricks. Case in point – awesome conservative Republican Chris McDaniel vs RINO Thad Cochran in Mississippi.
GOP establishment candidates have bottomless pit funding from deep-pocketed donors like the Chamber of Commerce. When elected they support the establishment's betrayal of Tea Party voters who won them the House and Senate.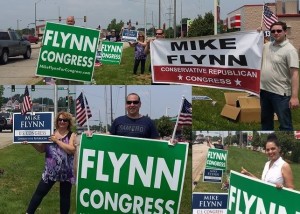 Our candidates are typically grassroots funded by donors like the woman I affectionately named, "The Five Dollar Lady." At a Tea Party national bus tour rally, she tearfully told me how Obama's policies cost her husband his job as a trucker. She handed me a crumpled up five dollar bill towards gas for our tour bus.
How could I take that woman's five bucks, look her in the eye and betray her interest? I could never do such a thing. So, even though we have experienced a few heartbreaking losses, my team and I can lay our heads on our pillows at night, knowing we did the right thing for those who entrusted us to represent them.
Okay, okay, I know I am starting to sound like my grandmother bragging about her family. So, I will end by saying you can rest assured that you have a faithful and loyal friend in us at CCC (Conservative Campaign Committee).
This Tuesday, July 7th, awesome conservative Mike Flynn is running for Congress, Illinois. Mark Levin brilliantly articulated the national importance of this race. http://www.mikeflynnforcongress.com/
Contact your family and friends in Illinois and tell them to make sure to cast a vote for brother Mike. God bless.
Lloyd Marcus, The Unhyphenated American
Chairman, Conservative Campaign Committee