Lloyd vs the Bitter Orange Tree: Round Two
For years I allowed an orange tree that yielded awful bitter fruit to take up space in my backyard. Finally, it dawned on me to cut it down and replace it with a tree that would yield sweet oranges. The bitter orange tree became a metaphor for all the useless negative distractions and nasty people I tolerated and tried to please. http://bit.ly/1kqyw3B
Before leaving town on a month long business trip, I felt extremely compelled to start the process of change. I cut down the bitter orange tree. The trunk was about 3 inches in diameter.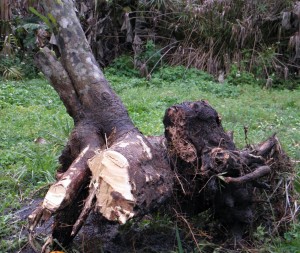 Upon my arrival back home, I began digging up the stump. To my amazement, the roots below the surface were three times larger than the trunk of the tree; running long and deep.
I thought, isn't that typical of the roots-of-bitterness when nurtured and allowed to grow for years.
I do not have a chainsaw. For two days, I attacked the thick roots with a hand saw and an ax. Finally, I cut trough all the massive roots. As sweat rolled down my brow, with both hands, I ripped the surprisingly huge stump from it's home of many years. I dragged it over to the trash pile for final destruction. While I rejected the urge to pound on my chest, I felt manly.
I told my wife, Mary, that if I had cut down and replaced the bitter tree years ago, we would have been enjoying sweet oranges all these years. However, it is never too late to change. Our change will eventually reward us with sweet fruit.
As I said, removing the bitter orange tree was symbolic of removing all the bitter tasting distractions from my life; people, places and things.
Do not get me wrong. Bitter fruit in our lives strengthens us and helps us to mature. But there comes a time to break away and move on.
Both pastors Joel Osteen and T.D. Jakes preach about going where you are celebrated rather than tolerated. In other words, stop laboring trying to make folks like you who "don't get you".
You labor in vain.
Before coming to the New Orleans Saints, NFL quarterback Drew Brees always had to beat out another quarterback for the position. While the experience made him tough and helped to hone his skills as a competitor, Brees' career was only mildly successful.
When Brees came to the Saints expecting to fight for the job, he was told, you're our guy. We believe in you. In essence, the Saints celebrated him. Brees led his team to a Superbowl victory.
We all have a gift from God. Do not tolerate the bitter fruit for too long. Go where folks recognize and want your gift.
Mary and I are off to the nursery to purchase three trees; tangerine, lemon and cumquat.
Lloyd Marcus, Proud Unhyphenated American
Chairman: Conservative Campaign Committee