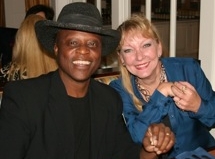 Monday, July 23rd, Mary and I celebrate 35 years of marriage. I reflected back to how we met. I was in a very bad marriage.
Headed to the parking lot of our apartment complex, a neighbor asked my assistance. The little five foot two, ninety something pound, blonde, hippie white girl had locked herself out of her apartment.
She asked me to break into her apartment. I guess I should have been offended. Did Mary assume I was a skilled burglar because I am black?
I broke into Mary's apartment. We laughed and talked for five hours. On countless occasions, Mary has been willing to give up everything for us to be together.
Oh, this is really cool. Twenty years ago, I wrote and recorded a song to Mary titled. "When I Look In Your Eyes" produced by Joe Ercole. Joe and I have reconnected after all these years to produce an updated version of the song. I can hardly wait for y'all to hear it. It will be on my up coming new God and Country CD.
From the beginning, Mary believed in me. Thirty-five years later, she still does. Happy Anniversary honey. I love you.
Lloyd Marcus, Proud Unhyphenated American
Chairman: CampaignToDefeatObama.com
LloydMarcus.com