A new weekly feature from Lloyd Marcus…
Lloyd's Life Lessons: Shining Up One's Self Esteem
My 84 year old dad told me a great story over the phone which confirms the powerful effect work, personal achievement and earning one's own money have on self-esteem.
When he was a little boy, Dad had a job shining shoes; working Saturday night until Sunday morning at the Greyhound bus station in Baltimore, Maryland. His pay was one dollar plus tips.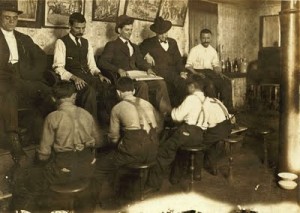 Dad said, "If you wanted good tips, you had to be a little slick and put on a good show". Dad worked hard honing his skills, mastering his craft. He twirled his shoe shine brushes, flipping them into the air and catching them. Further dazzling his clients, Dad made a rhythmic popping sound with his shoe shine cloth when putting the finishing touches on well shined shoes.
After the shoe shine, he would brush down the gentleman's suit with a whisk broom. Dad said he and the other shoe shine boy "always" found a little something on the back of the gentleman's suit which they had to work a little harder to remove.
On a good Saturday night, come Sunday morning, Dad would go home having earned as much as $5; not bad for a kid in those days.
Upon purchasing a t-shirt and giving some money to his aunt, Dad felt extremely proud. He bragged to his buddies, "I'm buying my own clothes and paying rent now".
I could hear and feel Dad's pleasure and pride over the phone as he told me his story. I found it fascinating that despite all of his major achievements over the years; one of a few black pioneers in the 1950s who broke the color barrier into the Baltimore Fire Department, Baltimore Firefighter of the Year two times, pastor of several churches, author and winner of numerous awards — remembering his early boyhood personal achievements still brought Dad great pleasure and pride.
I am convinced Dad's early embrace of a work ethic; learning responsibility, showing up on time, feeling the pride and reaping the rewards of a job well done laid the foundation for Dad's extremely successful life.
As the old song says, "Mama may have and Papa may have. But God bless the child who got his own".
Lloyd Marcus, Proud Unhyphenated American