A new weekly feature from Lloyd Marcus…
Lloyd's Life Lessons: An Unexpected Gift From God

A few Christmases ago, Mary and I flew up from Florida to the hills of West Virginia to visit her parents. Our stay was very enjoyable. The printer connected to her mom's computer was not working. To print our boarding passes for our return flight home, we would have to drive a few miles to town to use the printer at Mary's sister's office.
Before Mary pulled out of the driveway headed for town, Mary's mom yelled out the back door to us, "Use Grassy Lick Road, it's shorter!"
Upon seeing the sign, we turned off the main road on to Grassy Lick Road traveling higher up into the hills. Almost immediately, we lost the radio signal. Finding another station proved impossible, so we turned off the radio.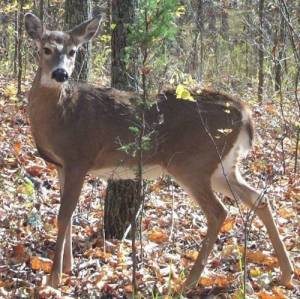 Grassy Lick Road was extremely winding. We passed several small farms; cows and goats grazing. Despite not seeing a single soul, we saw evidence of completed chores, works in progress, piles of chopped wood and hay rolled into giant wheels. While it was not cold, a chill was in the air. A breeze carried the aroma of someone's fireplace. A warm, wholesome and good vibe emanated from the farms.
Excited, I yelled, "Look Hon, there's a deer!" Then, we saw another, then another; five deer in total before we reached the main highway. We saw different flocks flying, heard various birds and other assorted sounds of nature including a stream flowing.
It took around ten minutes for us to reach the main highway. Almost simultaneously, Mary and I said, "Wow, was that awesome or what?" We realized we had not spoken from the time we turned off the radio at the beginning of Grassy Lick Road to the end. Silently riding, we both unconsciously meditated on the peaceful picturesque settings, sounds and smells of nature. Magically, we felt relaxed and refreshed.
God transformed a negative, Mary's mom's printer not working, into a neat unexpected little gift for Mary and me.
Romans 8:28 in the Bible says God works ALL things for good for those who love Him. Realizing His gift and His blessing, we thanked God for our delightful trek along Grassy Lick Road.
Lloyd Marcus, Proud Unhyphenated American