A new weekly feature from Lloyd Marcus…
Lloyd's Life Lessons:  An Unwrapped Christmas Gift
Mary phoned her mom to thank her and dad for the Christmas gift they sent us. Mom reported that dad got his Flu shot yesterday. Mom was in the process of baking bread to take over Mac and Mary's sister Melanie's house that night. Mary's other sister Donna, her husband Mark and their son Ben, home from college, were driving up from Baltimore to join them at Melanie and Mac's beautiful Christmas card setting West Virginia home. Due to various obligations, they decided to have an early family Christmas celebration. Florida obligations prevented Mary and I from attending.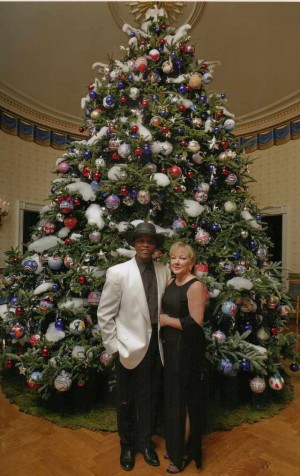 Mary's mom said this was the first time she and dad decided not to put up a Christmas tree for fear of the speedy crawling new grand-baby pulling it down. Mary said, "I don't remember them being so easy going when we were kids".
Now I know what you are thinking. I must confess, as Mary was telling me all of this stuff, my mind began to wander. I, like you, was thinking, who cares! But then it dawned on me. Wow, this is great! Mary's mom was sharing non-eventful, typical, normal, boring family stuff.
Well, that is exactly my point. God has blessed our family with another year. No one is seriously ill. No one has died. Yes, it is all so wonderfully normal and gloriously boring; an unwrapped Christmas gift from God. What a blessing! Praise God!
My dad told me over the phone how he endured Christmas shopping with my stepmother. Dad asked me to keep her knee replacement surgery in prayer. But otherwise, they are happy and doing fine.
I think I will call my brother David for his NFL playoff game predictions. Lisa, my daughter, texted me about her Christmas plans. I stopped in Deltona Records where Frank, my music producer and dear friend of 20 years, was excited about me hearing the song he recorded sung by his daughter who has blossomed into a beautiful young woman.
Yes, I am talking about all non-eventful, normal boring family and friends stuff. I pray that your Christmas and holiday season is as wonderfully normal and non-eventful as mine.
Remember, Jesus is the reason for the season. Mary and I truly wish you all a very Merry Christmas and a Happy & Blessed New Year!
By the way, that new grand-kid is totally out of control.
Lloyd Marcus, Proud Unhyphenated American