LLOYD MARCUS PRESENTS…Confessions of a Black Conservative Aboard Tea Party Express.
Lloyd Marcus speaks and sings in his unique entertaining presentation. Lloyd shares the compelling story why he is a black conservative and insider information regarding his four national tours aboard the Tea Party Express.
Lloyd Marcus Bio
Seen on FoxNews, CNN, PJTV, RIGHT NETWORK and more, internationally renowned, (black) Unhyphenated American, Lloyd Marcus is a media "go to guy" regarding the Tea Party Movement. His songs, articles and appearances at over 200 Tea Parties across America are inspiring and touching millions
Marcus is a sought after speaker, entertainer and prolific columnist. He is singer/songwriter of the American Tea Party Anthem and official spokesperson for Tea Party Express.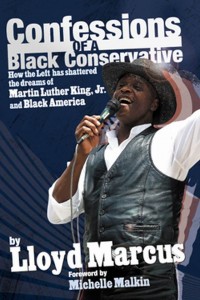 Marcus is the author of, "Confessions of a Black Conservative: How the Left has shattered the dreams of Martin Luther King, Jr. and Black America".
A gifted unifier, most recently Marcus rallied conservative musicians for "Tea Are The World", a historic CD project benefiting AmericasMightyWarriors.org.
Marcus is president of the National Association for the Advancement of Conservative People of All Colors (NAACPC.com). He is also a Florida precinct chairman and Creative Director of the Volusia County Republican Executive Committee. Marcus, also a fine artist, is president of the Deltona Arts & Historical Center in Florida.
LloydMarcus.com
SW Volusia Republican Meeting: Tuesday, January 18, 2011, 7 PM,
Best Western Deltona Inn, 481 Deltona Boulevard, Deltona, FL 32725
For More Info: republicanclubofswvolusia@yahoo.com