A common theme of this election season is ordinary people who are extraordinary first time candidates birthed out of the Tea Party Movement. In my national travels on Tea Party Express, I have encountered several great conservative first timers.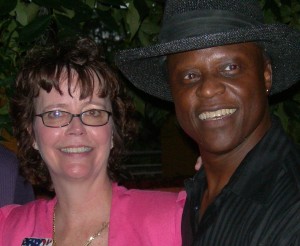 Margie Patchett running for Volusia County Council at Large, Florida is extremely high on my list of national quality candidates. The Orlando Sentinel named Margie Patchett the Tax-Reform Crusader.
Margie has been fighting for us, We The People, for years. Google her; 25 pages documenting Margie's efforts confronting the out of control and wasteful spending; and offering smart common sense solutions to fix it. Folks, when it comes to budgets, finances and economics, this woman is brilliant. Margie has been attacked.
Remember, in the movie, Godfather Michael Corleone warned his brother, "Don't ever go against the family"? The political "ruling class" would love to say, "Margie Patchett politically sleeps with the fishes".
Since Margie's decision to run for County Council, the left has aggressively targeted her for destruction. Upon sharing with me how Obama-nomics has devastated her finances, Margie said, "So what else can they do to me?"
Folks, I really like this gutsy lady. She is passionately fighting for us. Margie Patchett is the kind of candidate the Tea Party movement is all about. Her campaign needs funds. Please help. (www.margie4thepeople.com)
Lloyd Marcus, Proud Unhyphenated American
LloydMarcus.com
Spokesperson/Entertainer of Tea Party Movement & Tea Party Express.
The American Tea Party Anthem cd/album.
Confessions of a Black Conservative, foreword by Michelle Malkin, written by Lloyd Marcus
President, NAACPC (National Association for the Advancement of Conservative People of ALL Colors)
Join Lloyd Marcus Facebook Page
Tea Are The World, "Taking Back America" The Making of Documentary… The MUST SEE Tea Party Historic Conservative Music Event !