December 8th, I had the honor of singing at the wedding of dear friends, two extraordinary people, Tim Piccirillo and Jen Stackpole. Wow, talk about an event that was all about love, their wedding was awesome.
Tim and Jen tied the knot at Disney in Florida. Even Mickey and Minnie Mouse made a surprise appearance.
Jen, a super talented singer/songw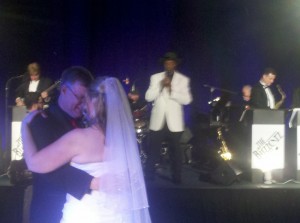 riter, came into our lives years ago when she began recording with music producer/music engineer Frank Starchak at Deltona Records which is housed in Deltona Arts & Historical Center. I am president, janitor and chief bottle washer of the arts center. We are family there.
So, it was truly heartwarming to see the arts center so represented at Jen and Tim's special day. Our very own multi-talented Adrian Sutton, singer, songwriter, music producer, film director, actor and strong young man of faith presided over the wedding ceremony.
Music producer, Frank Starchak who is usually attired in t-shirt and jeans in the recording studio, looked really sharp in his tux giving Jen away. Jen's dad passed away several years ago.
Several members of our arts center family were guests at the wedding.
At the reception, for Jen and Tim's first dance, I sang my original "Eyes" (When I Look in your Eyes), a song I wrote to my wife Mary over 20 years ago.
Unquestionably, the vibe and message of Tim and Jen's wedding was love, love, love – all we need is love.
Tim and Jen will Honeymoon in Hawaii. Aloha!
Lloyd Marcus, Proud Unhyphenated American
LloydMarcus.com